A healthy and cheesy broccoli and cauliflower rice chicken casserole that is perfect for dinner and makes great leftovers. Gluten free and low carb!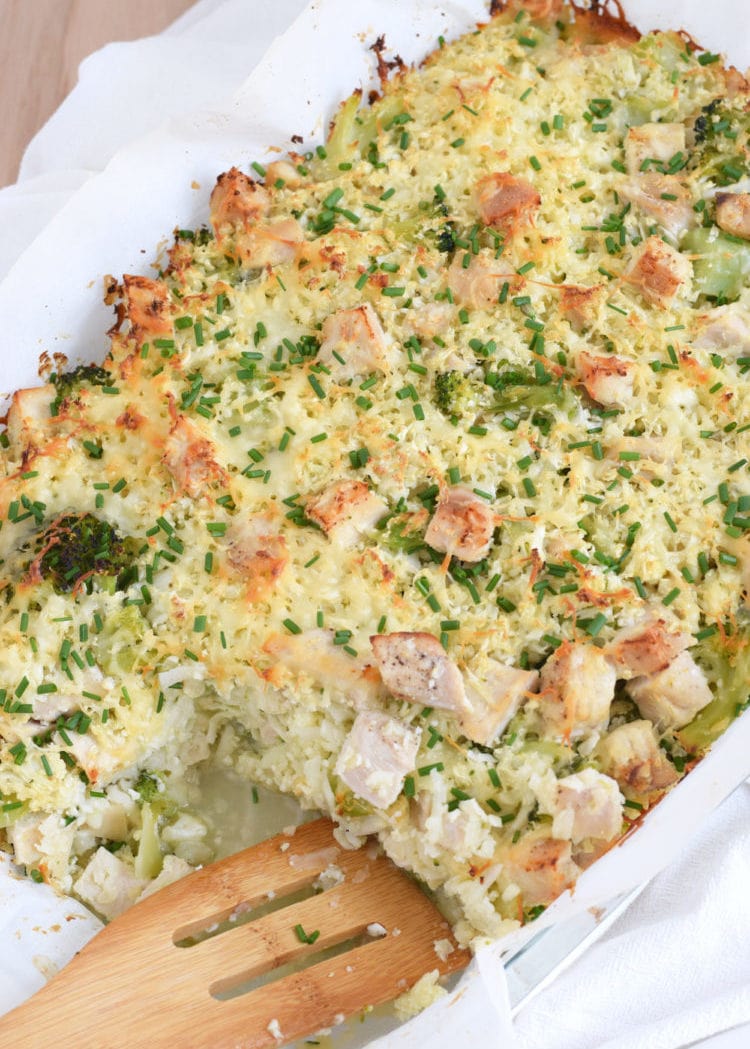 It may shock some people to hear this, but casseroles were never really a part of my childhood. Sure, there was the occasional attempt at making lasagna and maybe a hamburger helper type of dish, but that was rare. (Wait – are lasagna or hamburger helper even considered casseroles? No clue. See, that's exactly my point.)
Though my family liked all the ingredients in the typical casserole, we didn't like them all mixed together. We wanted the ingredients separate just so we could assemble them on our own plate. Think about it – rice, beans, cheese, a protein, salsa and corn tortillas. All those ingredients would make an amazing casserole. But instead we wanted to make our own thing – tacos, tostadas, sopes, you name it.
Oh well. Those are pretty tasty, too. 😉
It wasn't until I moved in with John that I realized the power of the casserole.
Usually, very few pots and pans are required. Less dishes to wash equals a win in my book. Because let's get real – washing the dishes after getting home from work is the last thing John and I feel like doing.
Most importantly, casseroles are huge! Which means lots and lots of leftovers. If we didn't feel like cooking the next day, no worries – we've got some leftover casserole. SCORE.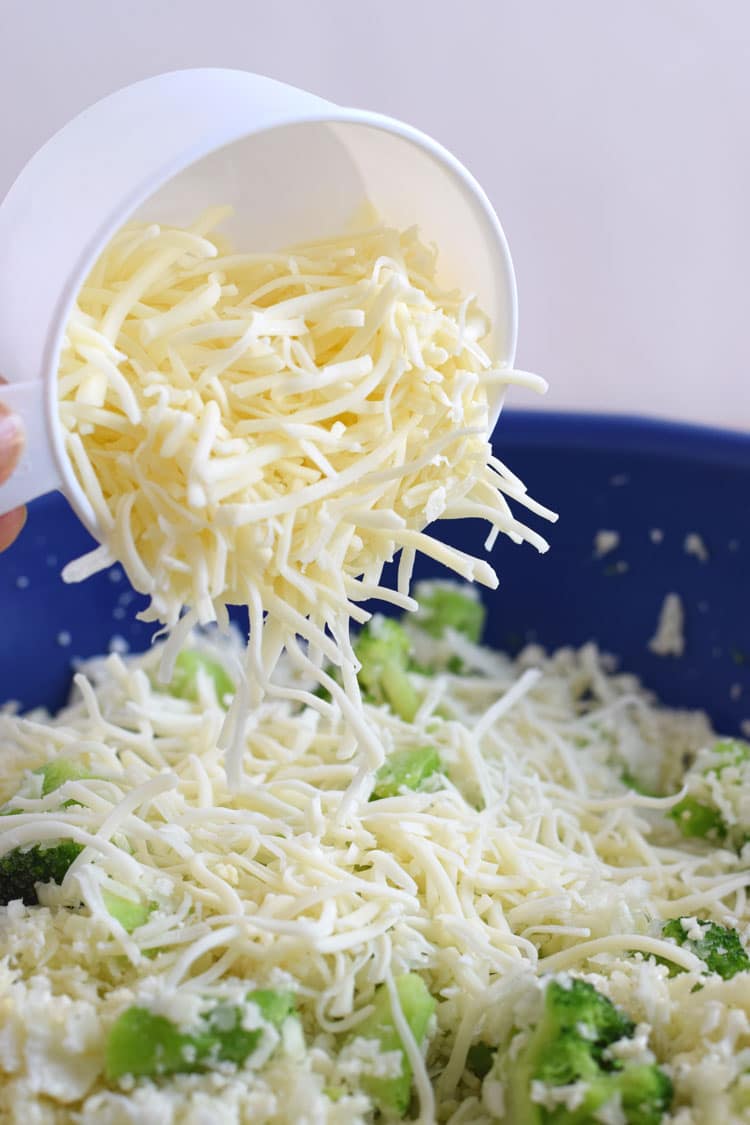 Like many people, John doesn't always like eating vegetables. And because I love him and care about his health, I'm always trying to come up with new ways to incorporate more of them into our meals.
And that's where cauliflower rice comes in. If you've never made "cauli-rice," prepare to have your mind blown. Here's what you do. Ready?
Grate a head of cauliflower using a large cheese grater (or lightly pulse cauliflower florets in a food processor) and that's it!
If you need more of a recipe, check out my recipe for Cilantro Cauliflower Rice.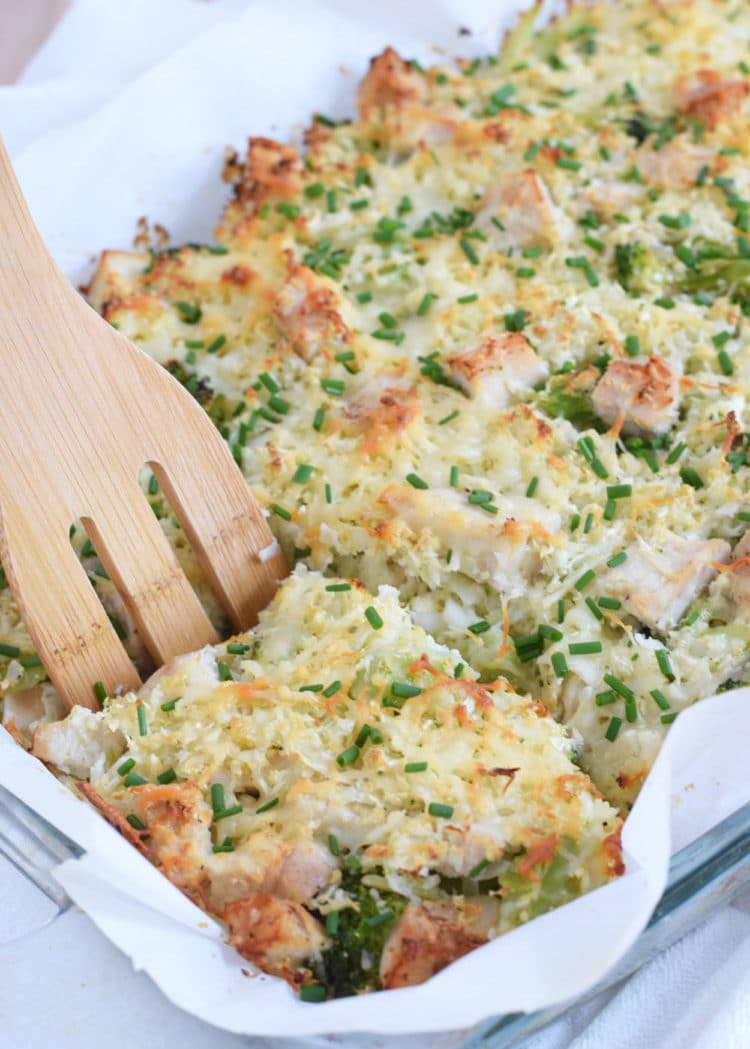 And how could I forget the best part of this Broccoli Cauliflower Rice Chicken Casserole?
ALL THE CHEESE.
2 1/2 cups of shredded cheese to be exact. Some people may not think that's enough, so if that's you, go for it. Sprinkle some more in there.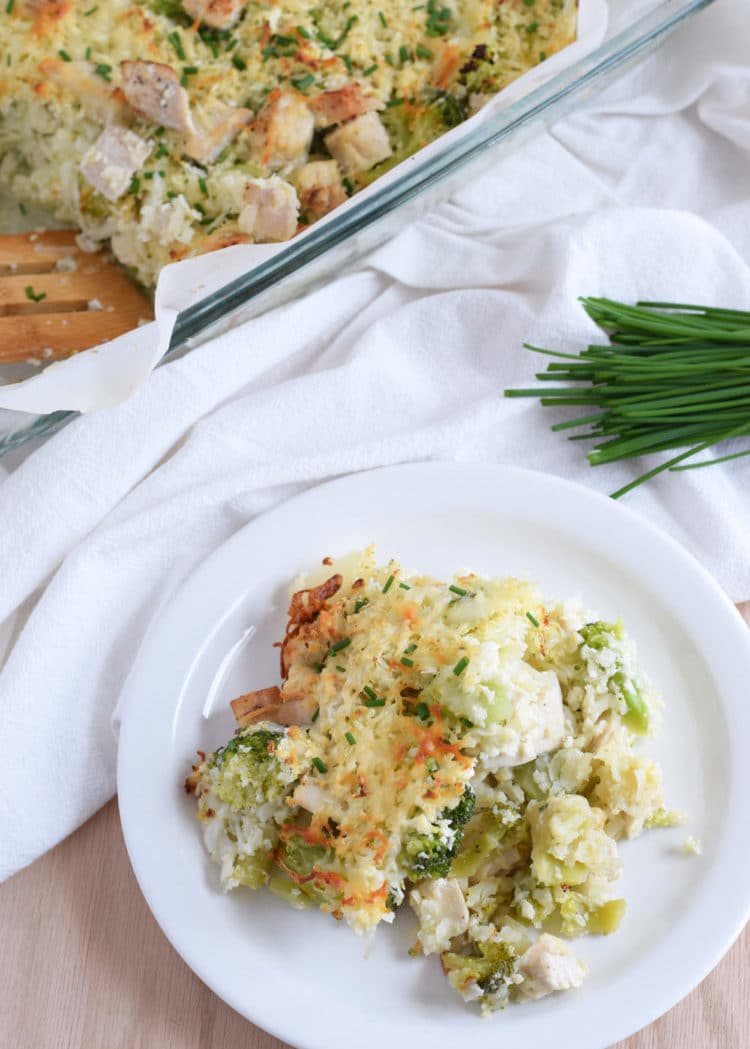 TOOLS USED TO MAKE THIS RECIPE: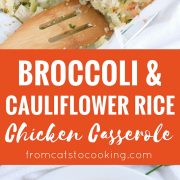 Broccoli Cauliflower Rice Chicken Casserole
A healthy and cheesy broccoli cauliflower rice chicken casserole that is perfect for dinner and makes great leftovers. Gluten free and low carb!
Ingredients
2

lbs

skinless

boneless chicken breasts

1

tbsp

olive oil

1

large cauliflower

16

oz

bag frozen broccoli cuts

2

tsp

coarse sea salt

1

tsp

onion powder

1

tsp

garlic powder

1

tbsp

butter

melted

1

cup

mozzarella cheese

shredded

1 1/2

cup

Italian five cheese blend

shredded
Instructions
Preheat oven to 400 degrees.

Slice chicken breasts in half horizontally, lightly coat in olive oil and place on baking sheet. Liberally season with salt and pepper. Bake for 20 minutes.

While chicken is baking, grate cauliflower in a large bowl. Add frozen broccoli cuts, chopping some of the larger pieces in half.

Remove chicken from oven and let cool for 5 minutes.

While chicken is cooling, add sea salt, melted butter, onion powder, garlic powder, shredded mozzarella cheese and 1 cup of the shredded Italian five cheese blend to the large bowl.

Mix everything together.

Carefully cut baked chicken into cubes. Toss with broccoli/cauliflower mixture and transfer to 9 x 13 inch (3 quart) baking dish or larger.

Top with ½ cup shredded Italian mix cheese.

Bake in oven for 50 minutes.

Let cool for 10 minutes before serving.

Top with some diced chives, a dollop of ranch dressing and enjoy!
***
Nutrition Facts
Broccoli Cauliflower Rice Chicken Casserole
Amount Per Serving
Calories 389
Calories from Fat 171
% Daily Value*
Total Fat 19g 29%
Potassium 448mg 13%
Total Carbohydrates 13g 4%
Protein 46g 92%
* Percent Daily Values are based on a 2000 calorie diet.
This page contains affiliate links. If you make a purchase on Amazon after clicking one of my links, I may receive a small commission. The price of the item stays the same and any money I make goes to supporting this blog. I only endorse products and services that I fully believe in.
Free Monthly Meal Planner
Plan your meals, stay organized and take the guesswork out of grocery shopping every week with my free monthly meal planner printable!